Harry Potter author JK Rowling has thanked fans saying "it's been wonderful" on today's anniversary which marks 20 years since the first book was published.
Harry Potter And The Philosopher's Stone was first published on June 26 1997 and has since sold more than 450 million copies worldwide in 79 languages.
20 years ago today a world that I had lived in alone was suddenly open to others. It's been wonderful. Thank you.#HarryPotter20

— J.K. Rowling (@jk_rowling) June 26, 2017
Rowling wrote on Twitter: "20 years ago today a world that I had lived in alone was suddenly open to others. It's been wonderful. Thank you."
Another Harry Potter alumni, the actress Evanna Lynch, who played Luna Lovegood in the films, joined Rowling in marking the anniversary.
Lynch, who became a pen pal with Rowling before landing her role in the films, told how "empowering" she found the books as she battled an eating disorder.
Can you believe it's Harry Potter's 20th birthday today? Good luck with #DiscoPigs20 @Evy_Lynch – lovely to see you pic.twitter.com/GPYx82UKKU

— Lorraine on ITV (@ITVLorraine) June 26, 2017
The actress wrote to Rowling because she suffered with her own insecurities and struggles.
She told ITV's Lorraine: "To see that was okay, that was empowering, so I wrote to her and she wrote back and we became pen friends before I got the role."
Evanna Lynch with a replica of Buckbeak during the media preview of The Making of Harry Potter, the Forbidden Forest attraction at the Warner Bros Studio Tour London (PA)
Lynch, who will soon be seen in the play Disco Pigs at London's Trafalgar Studios, added that she has recovered from an eating disorder, saying: "I'm so happy it's all behind me, I'm grateful that it happened before I became part of the movies, that would have been difficult to deal with.
Lynch is not alone in marking the 20th anniversary of the first book about The Boy Who Lived.
Good Morning Britain host Piers Morgan donned Harry Potter's trademark glasses and waved a wand, but then slammed the best-selling books as "badly written tosh".
Well @piersmorgan is certainly in the mood for #20YearsOfHarryPotter 😂 pic.twitter.com/6TjtEoEx2S

— Good Morning Britain (@GMB) June 26, 2017
The Harry Potter books have led to a major movie franchise, a sold-out theatre production and multiple theme parks, as well as a booming memorabilia market.
Author JK Rowling had the idea for the stories about a young wizard and his friends and teachers at a school for magic while on a train journey, and she wrote the first book in a small cafe in Edinburgh.
The Elephant House has since become a tourist attraction for fans of the series.
The #CursedChild cast celebrate #HarryPotter20! The #PhilosophersStone was first published on this day 20 years ago. pic.twitter.com/3QqNRRXbwO

— Harry Potter Play (@HPPlayLDN) June 26, 2017
Rowling's follow-up to The Philosopher's Stone, The Chamber of Secrets, was published the following year in 1998, while Harry Potter And The Prisoner of Azkaban was published in 1999.
They were followed by Harry Potter And The Goblet Of Fire, The Order Of The Phoenix, The Half-Blood Prince and The Deathly Hallows.
The first film, which propelled stars Daniel Radcliffe, Emma Watson and Rupert Grint to global fame, was released in 2001 and the franchise wrapped up in 2011.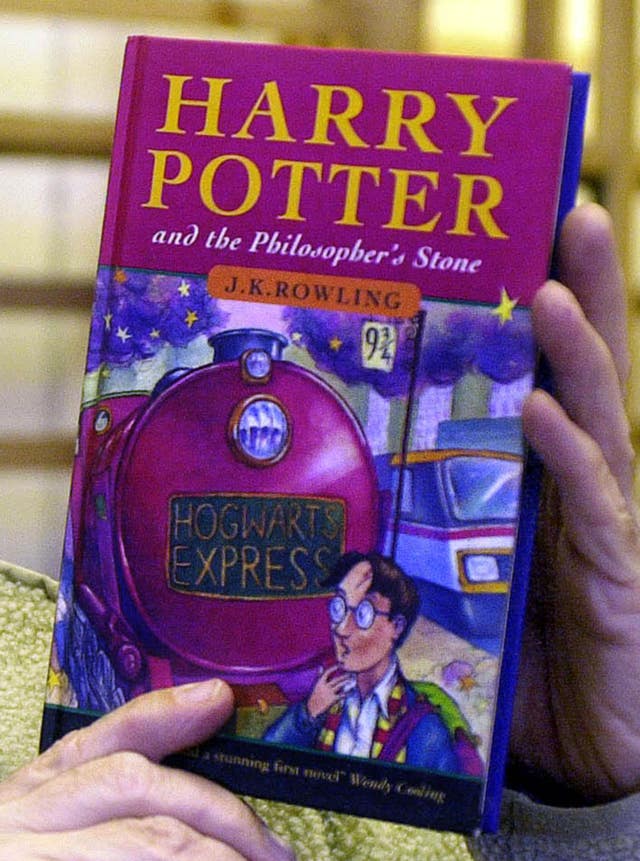 A hard back first edition of Harry Potter and the Philosopher's Stone by J K Rowling, as Harry Potter fans around the world will today celebrate the 20th anniversary of the first book about The Boy Who Lived (PA)
Harry Potter And The Cursed Child, a two-part West End stage play written by Jack Thorne and based on a story by Rowling, opened on July 30 2016.
In honour of the 20-year anniversary, an exhibition celebrating the magic of Harry Potter will open at the British Library on October 20, while Rowling's publisher Bloomsbury will release four new editions of the book, one for each house at Hogwarts School Of Witchcraft & Wizardry.
Happy anniversary Harry Potter!