Consumer confidence has plunged in the run-up to the festive season as uncertainties posed by conflict in the Middle East add to accelerating energy, fuel and mortgage costs.
GfK's long-running Consumer Confidence Index fell nine points to minus 30 in October, taking it back to a level last seen in July last year.
The index's major purchase measure – an indicator of confidence in buying big ticket items – saw the sharpest drop of 14 points, in a significant turnaround from last month's four-point increase which will concern retailers in the run-up to Christmas.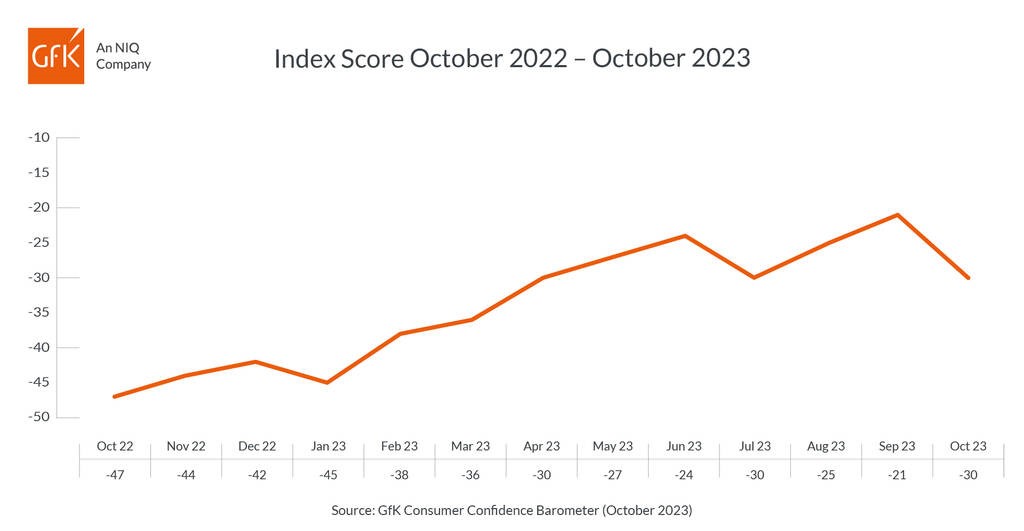 Confidence in personal finances over the next 12 months fell six points to minus eight, although it remains 26 points higher than this time last year, while expectations for the general economic situation over the coming year has fallen by eight points to minus 32 – 29 points higher than last October.
Joe Staton, client strategy director at GfK, said: "This sharp fall underlines that the cost-of-living crisis, and simply not having enough money to make ends meet, are still exerting acute pressure for many consumers.
"The fierce headwinds of meeting the accelerating costs of heating our homes, filling our petrol tanks, coping with surging mortgage and rental rates, a slowing jobs market, and now the uncertainties posed by conflict in the Middle East, are all contributing to this growing unease.
"The volatility we are seeing in consumer confidence is a sure sign of a depressed economic mood and there's no immediate prospect of any improvement."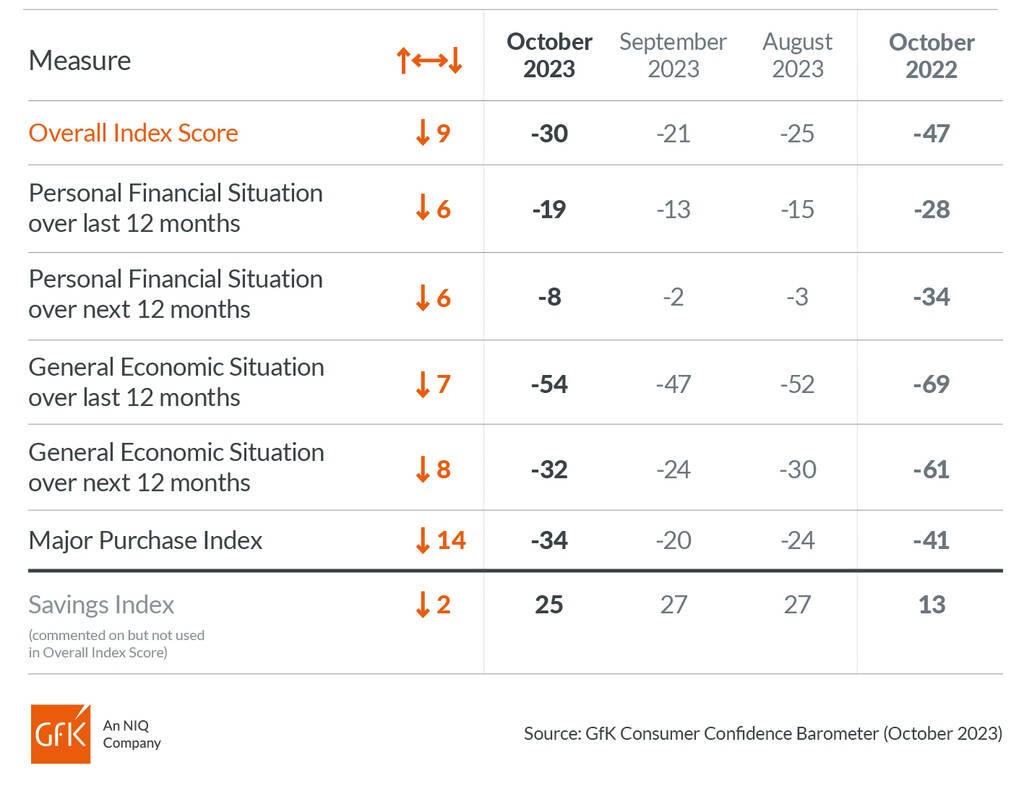 Meanwhile, research by KPMG suggests a third of consumers will be eating out and drinking away from home less this festive period, a third will spend less on Christmas groceries, and 39% will have a smaller budget for gifts due to the cost of living.
Just 4% of those surveyed said they will have more money for gifts this Christmas, while just 7% said they will spend more on groceries.
Linda Ellett, UK head of retail and leisure consumer markets at KPMG, said: "Unsurprisingly, the higher cost of living looks set to take its toll on Christmas spending for many households.
"Even for those spending the same, the volumes that they receive may well be less due to inflation.
"The upshot of this for retailers is continued competition for shrinking consumer spend and reduced volume, and a need to capture audiences via strong campaigns, well-targeted promotions and discounting and great customer experience."