Liam Williams has hailed the work ethic behind Wales' transformation from Six Nations also-rans to potential Rugby World Cup quarter-finalists.
It is barely six months since Wales floundered on northern hemisphere rugby's biggest stage.
Their solitary win – a 29-17 victory over Italy in Rome – spared them the indignity of propping up the table.
The Six Nations campaign also unfolded against a backdrop of major financial and contractual uncertainty in Welsh professional rugby, factors which almost led to a player strike as Wales prepared for a Six Nations appointment with England.
Warren Gatland had returned for a second spell as head coach, but there was little opportunity for him to make an impact amid such off-field chaos.
The World Cup build-up, though, began in late May as Gatland enjoyed 16 weeks of unbroken preparation – highlighted by punishing training camps in Switzerland and Turkey – leading into Wales' World Cup opener against Fiji.
And Wales will arrive at at the OL Stadium in Lyon on Sunday knowing that victory over Pool C rivals Australia would confirm a last-eight spot one game inside the distance.
"We've worked hard as a group, everyone," said Wales full-back Williams, who wins his 87th cap this weekend.
"The pre-World Cup camps were hell, to be honest, but the boys have just been digging in. We are all on the right page.
"If you had said six months ago that we would have played two pool matches and been at the top of the group with 10 points we would have bitten your hand off. We have just got to go and back that up on the weekend."
Central to the revival has been Gatland's ability to get the best out of his players, something that he achieved repeatedly during an 11-year reign sprinkled with Six Nations titles, Grand Slams and World Cup semi-finals.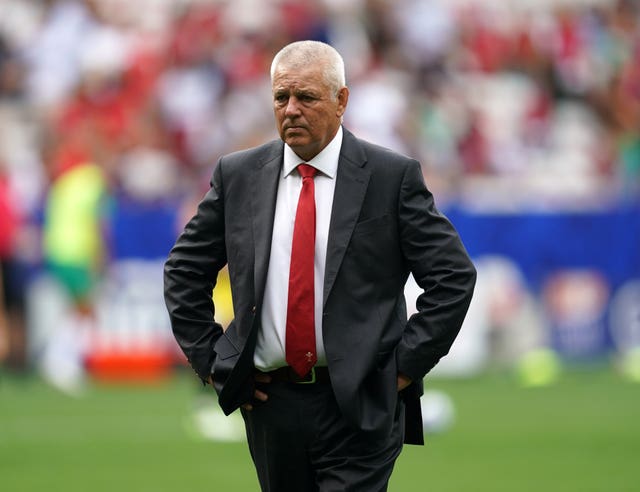 Williams added: "He doesn't really change. He has a laugh and joke sometimes, and when it comes down to work, then you just work.
"That is what we have done for the last six months, and every other time I have worked under Warren. It doesn't change too much.
"Many years ago, he knew how to press the right button for me to get a reaction, to get me back playing well.
"Being one of the older heads now, he doesn't need to press any more buttons. I think he does with a couple of the younger boys, and he knows what ones to press to get the best out of them.
"He just used to blank me! It used to really get on my nerves.
"If I played well, I would be walking past him with a big smile on my face, and he would just walk past me, kind of thing.
"It would really get me annoyed, then I would train in the week, work incredibly hard and play well again, and he would say, 'I knew you would play well this week'. Little things like that, I guess."
Wales' impressive fitness levels came to the fore during a pulsating 32-26 victory over Fiji, and they now face an Australian side on the brink of elimination if they lose.
"The ball was in play was for 38 minutes (against Fiji) which is I think the highest of this Rugby World Cup so far," Williams said.
"It was a pretty crazy game, and we were glad to come away with the points in the end.
"The ball wasn't in play as much in the Australia-Fiji game (Australia lost 22-15) – I think it was 11 minutes down compared to our game.
"They (Australia) have just lost to Fiji, so they are going to be going for blood, but we are taking it like any other game in the pool. We are going to try to win."